Christmas Cookies and Natural Food Dye (Vegan)
December 8, 2015 | Kathryn Kellogg
Last Updated on May 7, 2021
Growing up our one, yes one and only, Christmas tradition was to bake cookies, listen to classic crooner Christmas music, and put up the tree after Thanksgiving. I'm bummed; because, we don't have room for a tree this year. There will be room next year! We're just renovating part of our house and furniture is crammed every which way. (Zero Waste reno post to come!) So, this year it's just baking cookies and listening to Christmas tunes.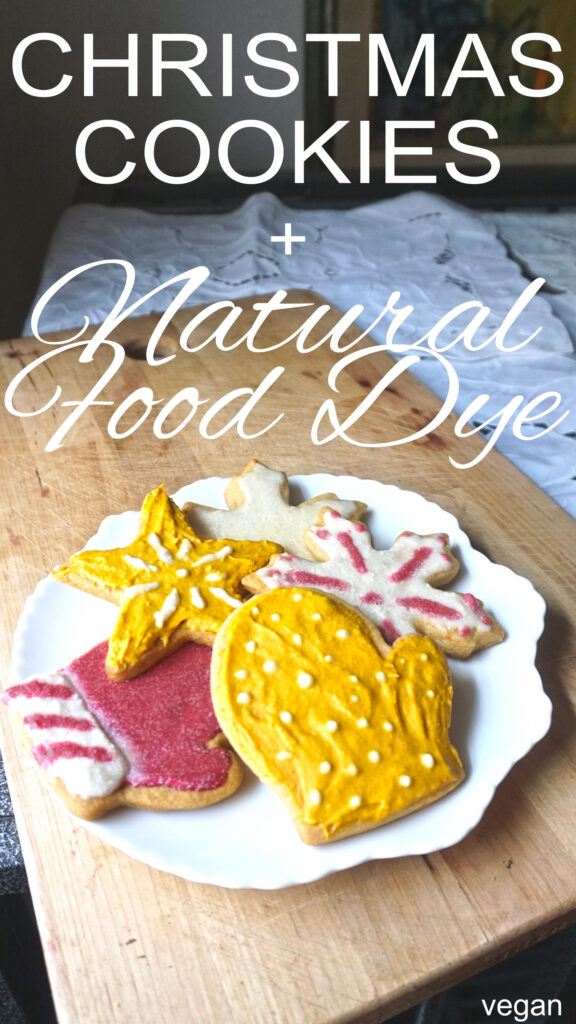 Armed with an arsenal of Bing Crosby, a sleek marble rolling pin, and Mom's perfect metal cookie cutters – I'm ready for action. But, what about food coloring? The best part of making cookies is all of the colorful icing and the freedom to decorate! I had no idea how I was going to do this zero waste. I really didn't want to buy tiny plastic bottles of artificial dye. Then I started thinking what is food coloring? Apparently it's made out of crude oil. Seriously. Same stuff that makes – you guessed it – plastic.
They are made in a lab with chemicals derived from petroleum, a crude oil product, which also happens to be used in gasoline, diesel fuel, asphalt, and tar. NPR.org: "Artificial food dyes are made from petroleum and approved for use by the FDA to enhance the color of processed foods.
Great news the solution was staring me in the face. Quite literally. On my spice rack.
Turmeric = gold
Matcha = green
Beets = red
I had all of the makings for a tasty and festive occasion right in my kitchen! I'm sure I'm not the first person to think of this, but I felt like a genius for a hot second. Now all that's missing is friends and adult drinks!
In my PJs.
Shauna from Zero Waste Teacher joined me and Bing in the kitchen for a festive night. She taught me how to make some amazing coconut milk which we used in our cookie extravaganza.
1 Dozen Vegan Sugar Cookies
12 cookies, 1 Hour, 350 Degrees for 12 minutes
1/2 cup (1 stick) vegan butter softened

1/2 cup sugar

1/4 cup brown sugar

1/4 cup mashed sweet potato

1 teaspoon pure vanilla extract

1 Tablespoon coconut milk

1 3/4 cups unbleached all purpose flour + more for dusting

1/2 Tablespoon cornstarch

1 teaspoon baking powder

1 teaspoon baking soda

1/4 teaspoon salt
Cream together the butter and sugar. Add the sweet potato and vanilla extract and coconut milk stir until smooth. Add the dry ingredients and mix until well incorporated. Sprinkle flour on your work surface and turn out the dough. Roll it till it's approximately 1/8" thick. Cut out fun shapes, place on a baking tray and pop into the freezer for around 10 minutes.
Vegan Icing
1/2 cup (1 stick) vegan butter, softened

3 cups powdered sugar

6 Tablespoons of Coconut milk
Cream together the butter and powdered sugar. Add one tablespoon of milk at a time until it's creamy. You can make it as stiff or as loose as you want. This recipe is pretty medium. After it was made we divided it into three bowls. The first we added 2 teaspoons of turmeric. The second we added 2 tablespoons of beet juice, and the third we left white. For green dissolve 2 teaspoons of matcha in a tablespoon of water.
Pro Tip: You can make powdered or confectioners or icing sugar by blending regular sugar until it's fine.
How cool is that? Have you used natural dyes? What are some of your favorite Christmas traditions?