9 Ethical and Sustainable Athletic Wear Brands
January 28, 2019 | Kathryn Kellogg
Last Updated on September 15, 2020
This year I want to do more round up posts to help guide you when shopping. Last year I did one on underwear, sheets, and my favorite holiday party dresses.
I have had a lot of fun writing these posts because I love supporting sustainable businesses!
Of course, I 100% support the second hand market, and have great tips for mastering second hand shopping and second hand stores online.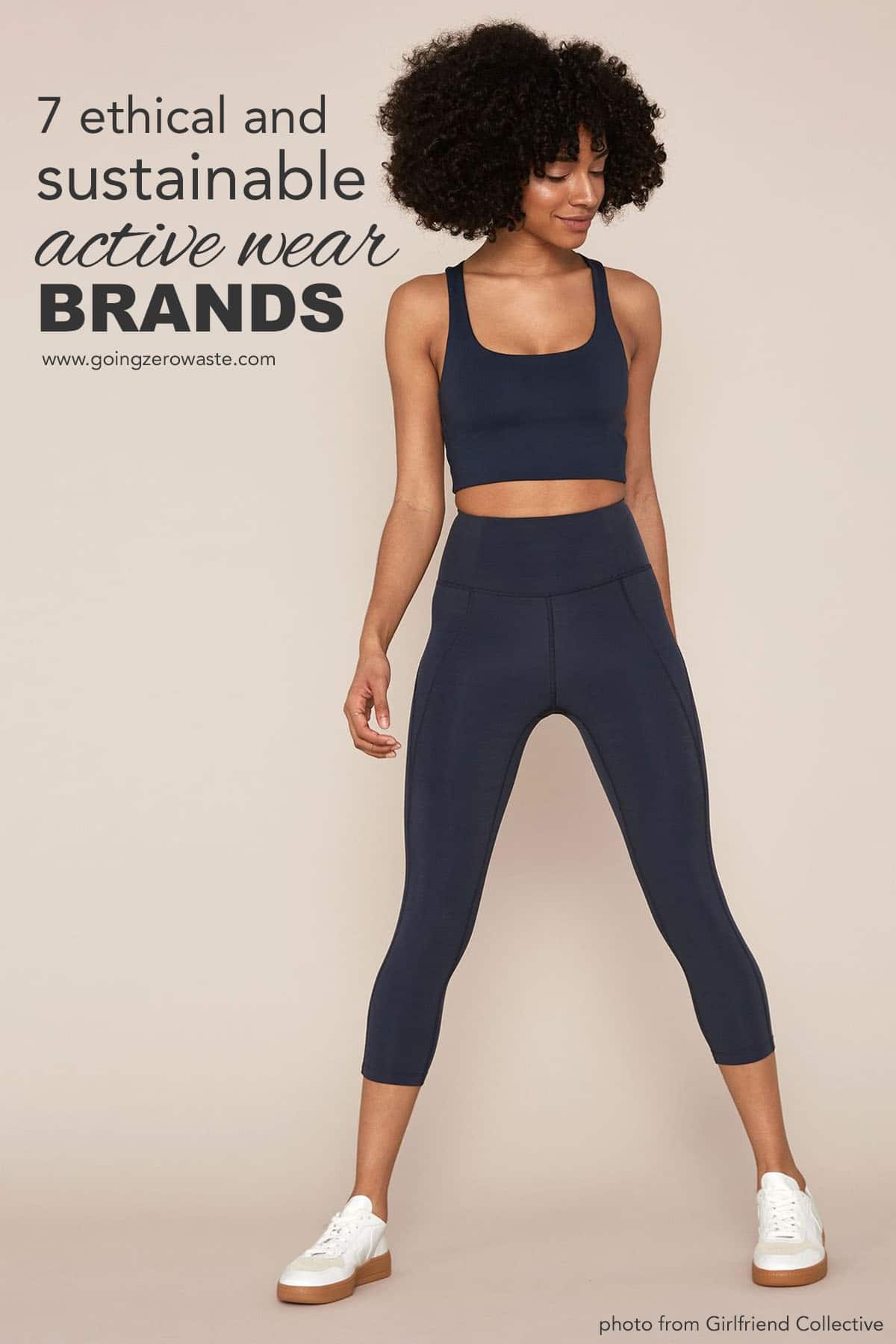 As confident as I am in the second hand market, undies, sheets, and workout gear are some of the pieces, that I'd really like to buy first hand. When it comes to buying workout gear, the struggle of all struggles is polyester. Most workout gear is made from polyester. Natural fibers absorb moisture, where poly (which is plastic) doesn't.
Polyester when woven across allows for the moisture to move from the skin through the shirt and evaporate. I'm not a huge fan of polyester in my clothing, but going on a run with cotton leggings, is not super comfortable. In fact, it makes jogging almost down right unbearable cause it makes my legs itch. But, I don't mind wearing cotton leggings when it's a low/non-sweat activity like restorative yoga.
I'm currently working on a blog post about microfiber pollution which is a large problem due to polyester, acrylic, nylon and other plastic clothing.
When washing our synthetic clothing, we need to proceed with caution.
Before you wash, try to air your clothing out. Then opt for a micro-fiber bag like the guppyfriend or a microfiber ball.
This post is sponsored please see my disclosure policy for more information.
Ethical Workout Clothes
1. yogavated:
Yogavated is made in Phoenix, AZ. They source their fabrics from deadstock material and are a zero waste company!
During the production process, all of their scraps are saved and turned into tag strings, head bands, and they use the smaller scraps to stuff dog beds which are donated to the local shelter – could there be ANYTHING CUTER!?
They partner with artists to create their own mini-collections. I think it's a really beautiful collaboration and you can check out their featured artists here.
Their leggings are made with a sweat tech fabric that combines cotton knit jersey and polyester so it's breathable and sweat wicking making this a good choice for more active classes!
My top picks are the summit power legging and the redemption swoosh legging.
Yogavated is offering 25% off your first purchase with the code 'GZW25'.
2. la relaxed:
LA Relaxed is made in Los Angeles, CA. They recently got a lot of attention when Oprah declared this jumpsuit one of her favorite things of 2018.
LA Relaxed is committed to using sustainable, plant-based fabrics that are known for better temperature regulation.
Modal: Sustainably grown and produced from Beech wood using a low impact, water-recycling process, this dreamy fabric is luxuriously soft, breathable, and naturally temperature regulating.
Cotton and Hemp: GMO and pesticide free Organic Cotton is paired with Earth-friendly hemp to create a soft yet durable fabric. It's naturally hypo-allergenic and UV-resistant.
Tencel: Made primarily from Eucalyptus using a closed-loop process that minimizes water and chemical use, Tencel fabrics are naturally temperature regulating and antibacterial.
Tencel has a soft, soothing hand feel and offers long-lasting color retention.
I've had several LA Relaxed pieces for a couple of years and they are very soft and very cozy.
I like to wear my joggers to morning yoga, walks with Nala, and of course just lounging around the house.
My top picks are the piped jogger in azure (seriously the jogging suit of my dreams) and the smooch sweatshirt in oatmeal.
3. prana:
Prana is made all over the world, but they are committed to ethical standards and sustainability.
The town they're headquartered in doesn't provide composting, so the brought it in themselves – I thought that was super cool.
During the holiday season, they donate a portion of the proceeds from a select collection of items to Outdoor Outreach.
This non-for-profit organization transforms lives by connecting underserved youth with the outdoors—a mission that's been close to our hearts for a number of years.
I'm very impressed with the traceability of their supply chain and how they're working to manage forests.
While I am a huge proponent of modern plant based fibers like Modal an Tencel, we need to make sure the forests are being managed properly.
And, of course I'm super excited that they're phasing out polybags!
It is very difficult to do since our laws in the US require that most clothing items arrive individually wrapped in plastic to stores.
It's difficult to work with distribution houses in a plastic free manner which is another blog post all together.
My top picks are this moss green set made with recycled poly becksa 7/8 leggings and becksa bralette
4. girlfriend:
When girlfriend collective rolled onto the scene, they were one of the first to take plastic water bottles and turn them into activewear.
They blew up and are pretty much sold out of everything right now.
What I like about them is how detailed their about page is from how their fabric is made to their factories.
This is where their plastic bottles come from that they use to turn into fabric, "Taiwan, where we source all of our post-consumer water bottles, used to be called "Garbage Island". A small island nation of 23 million people, the government saw the danger of ignoring the problem, and through widespread change has transformed Taiwan into a world leader in recycling."
I hear their next drop is Feb 11. So, if you're looking to snag a new set my top picks are the midnight compressive leggings, the midnight paloma bra, and the smoke margot wrap.
5. outdoor voices:
Outdoor voices is one of my favorites for their bright colors.
They manufacture in the US, China, Vietnam, Cambodia, Italy, and Portugal.
They prioritize quality, compliance to worker's safety, fair wages and benefits, and dedication to minimizing environmental impacts on water waste and emission.
When it comes to fabrics this is what their website says, "We work with specialists around the globe to develop high quality, made-to-sweat-in textiles.
"While activewear has a track record for being tough to produce and recycle, we're passionate about finding ways to manufacture our materials and styles more sustainably.
"We love our lightweight Rec Poly (recycled polyester) fabric, which is crafted from post-consumer water bottles that are melted down and turned into fibers.
"For our Merino gear, we partner with Global Merino—leaders in sourcing sustainably raised wool, bluesign® certified—who can trace their fibers back to the sheep they came from.
"Our Seamless collection also works to decrease waste, as these styles are knitted as a tube rather than cut and sewn together—no scraps."
I also love that you can buy a set for a discount!
I always like to buy sets together so it's great that they encourage and even reward you for mixing and matching.
My top picks are the 7/8 Springs Leggings and the navy athena crop. Can you tell I have a thing for blue workout clothing?
6. alternative apparel:
Alternative Apparel is a fashion lifestyle brand best known for comfort, simplicity and its commitment to sustainability.
They ensure fair, safe, and clean workspace conditions for everyone in their supply chain and focus on using sustainable fabrics like organic cotton and post-consumer recycled polyester.
Their polyester recycles approximately 120,000 bottles annually.
They use eco-friendly, low-impact dyes, biodegradable fabric softeners and wash their clothing with reclaimed water.
Their eco-friendly packaging saves 2,100 trees, 400 cubic yards of landfill, 860k gallons of water, and 120 tons of CO2 annually.
My top picks are the eco-fleece hoodie and the french terry shorts.
7. tentree:
Tentree is one of my favorite avtive wear brands. I talked about them a bunch in this post about my five fall hiking essentials.
Tentree was founded in 2012 with a goal to deliver well-crafted, sustainable clothing and with each purchase 10 trees would be planted.
To date they have planted more than 24 million trees!! Yes, you read that correctly 24 MILLION trees and counting.
These trees have been planted in Canada, United States, Nepal, Madagascar, Haiti, Senegal, and Cambodia.
Their projects are truly outstanding and you can read more here.
Beyond, their amazing projects they also use sustainable fabrics like hemp, organic cotton, and recycled polyester.
My top picks are the tulita bomber and the pants I'm currently wearing right now / coziest pants of ALL TIME the bamone pant made with organic cotton.
8. satva:
Remember what I said about running with cotton? Well I was totally wrong.
After trying Satva's organic cotton leggings, I realized my old non-organic cotton leggings weren't designed for action and HIIT.
Satva has cracked the code.
They've managed to master both high-tech exercise gear and organic natural fibers. These leggings are the ones I'm honestly reaching for the most.
Beyond just being amazing, perfect for jogging, and ADORABLE (I love the kosha bra top), their mission is what really speaks to me.
They are dedicated to improving the livelihood and economic prosperity of small and marginal organic farmers in India.
Satva also donates a portion of all their proceeds to its local community and agricultural programs.
My top picks are the giri semi-fitted gray jacket, kosha bra top, and the perma high-waisted leggings. I seriously LOVE these leggings!
9. icebreaker:
This is another natural fiber brand that I SWEAR by. I got my first pair of Icebreaker leggings last year, and have already bought two more pairs.
I have their biker shorts, four t-shirts, and a sports bra too. Icebreaker is quickly becoming my go-to for working out.
Icebreaker is made mostly from merino-wool which is anti-bacterial, anti-microbial and rockstar for temperature regulation.
Merino wicks moisture away from the body naturally so you can stay comfortable on even the more strenuous outdoor activities.
Icebreaker has a very strict animal welfare policy that ensures a healthy, low-stress quality of life for the sheep.
They produce a transparency report every year that covers everything from social responsibility, worker safety, animal welfare, and environmental integrity. Read the Report
My top picks are the Women's Tranquil Tights which even have a band on the inside to cinch the waist and the women's Cool-Lite Meld Zone Long Sports Bra.
Are the any sustainable active wear brands you love? Let me know in the comment section down below, and I'll check them out!