17 Zero Waste Makeup Brands
January 26, 2018 | Kathryn Kellogg
Last Updated on May 24, 2021
If you've been a reader of Going Zero Waste for a while, you know much I love a good DIY! I used to make my own makeup all the time, like this lip to cheek, this eyeliner/mascara combo, and this powder foundation.
But, life gets busy and the reality is that you might not have time to DIY everything! As my workload has grown, my DIY time has unfortunately decreased significantly.
So, I went on a hunt for the best zero waste (or very low waste) makeup brands that are made with safe, earth-friendly, high-quality ingredients.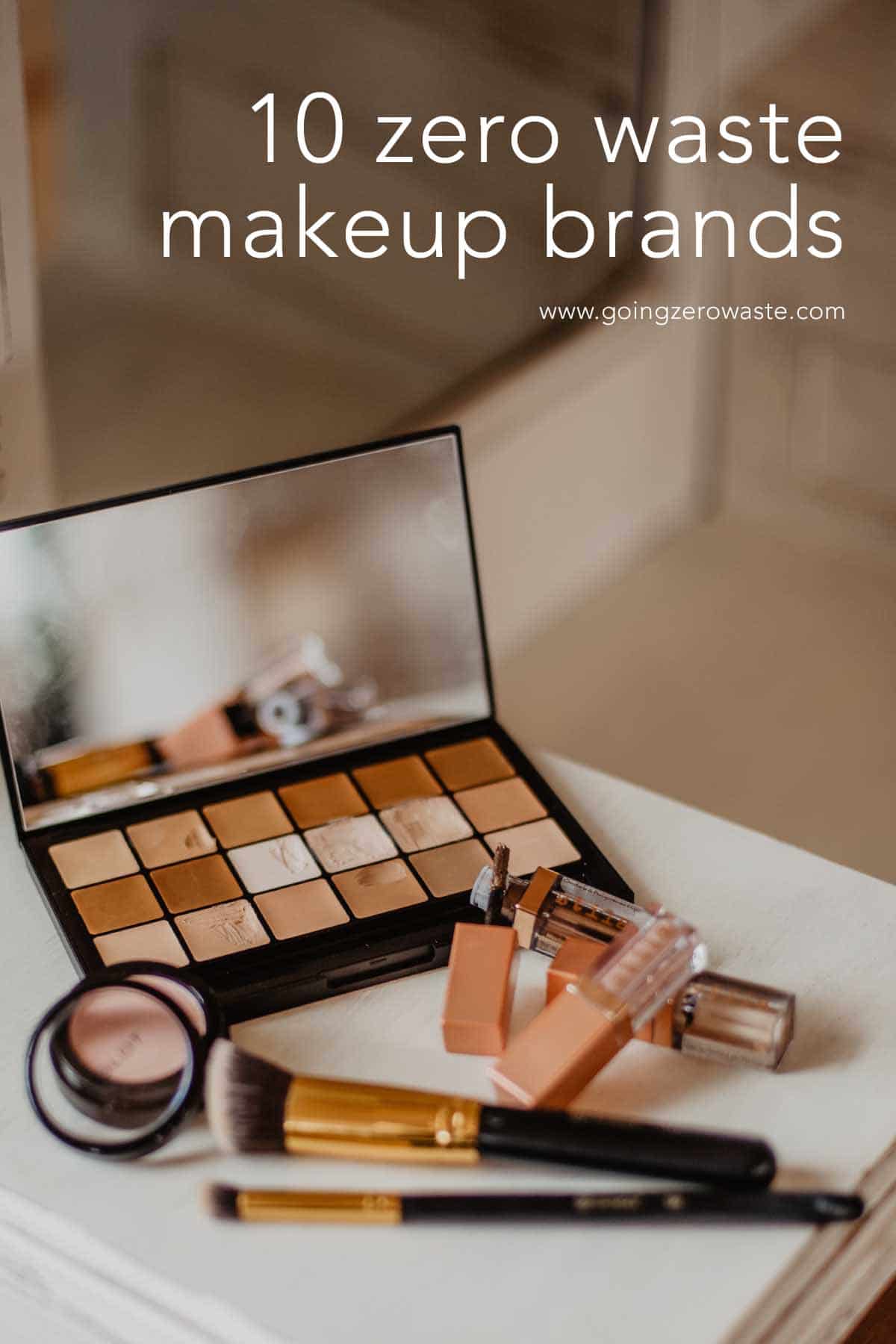 Most of these brands are more expensive than what you'd get at the drugstore (although there are a couple really budget-friendly ones!), but the fact is: you don't want to be wearing that stuff anyway! Cheap, conventional makeup is known to be packed with potentially toxic synthetic substances that can mess with your hormones and have significant long-term negative health effects.
Personally, I don't want to mess with that—I'd rather spend a little more to invest in higher-quality products with natural ingredients and just buy less of it!
I should give you a disclaimer that not all of these brands are perfectly zero waste. But I do know that the brands below are prioritizing minimalistic, recyclable, and compostable packaging wherever possible.
I also can't guarantee what sort of packaging is involved with online orders.
I have always bought my makeup in-store at Credo Beauty so I don't have to deal with extra packaging, but I know not everyone has access to a clean beauty store near them.
If you're worried, you could always reach out and ask before ordering—some of the brands below have noted that they will reduce their packaging even more upon request.
A few other hot tips before we get to the list:
First, if you live in a humid environment and/or don't go through makeup very quickly, I would recommend skipping the bamboo packaged products since they can get moldy!
You do NOT want to be putting products with invisible mold spores onto your skin.
Second, if you're finished with your old mascara wands, you can put them to good use by sending them to Wands for Wildlife!
Third, let's talk quickly about makeup remover. Usually, a regular old cotton washcloth and some coconut oil or face cleanser will do just fine!
If you're looking for a little something extra, these hemp and organic cotton makeup removal pads with this makeup remover is also a good option. And if you're someone who's constantly smearing things that need to be fixed with Q-tips, try a NakedSwab!
Lastly, just a heads up: many of the links in this post are affiliate links. For more information, please see my disclosure policy. Also, all pricing is in USD.
[ RELATED: DIY Makeup Brush Cleaner and My Favorite Zero Waste Skincare Products. ]
Sustainable Makeup Brands
All of Antonym's makeup is certified by ECOCERT, which means the products and packaging are third-party verified to be up to certain environmental standards. Plus, everything is cruelty-free and the only non-vegan ingredient they use is beeswax (in the lipstick only). They leave out all of the nasty stuff like parabens, sulfates, artificial fragrances, etc.
Their bamboo compacts are really pretty, and their outer packaging is made from either recycled or FSC-certified paper. Watch out for the liquid foundation though—the bottle is plastic!
Products: Foundation, blush, and eye color
Price: $19 – $60
If you're into crystals, astrology, and Greek mythology, you will love Aether. Yes: their eye shadows are literally infused with crystals. They use organic, fair-trade, vegan, and non-GMO ingredients wherever possible and ban over 1500 ingredients from their formulas.
Their eyeshadow palette is completely paper and the packaging is almost entirely recyclable.
Products: Eyeshadow
Price: $58
RMS is a pretty popular one that you're more likely to find at in-store retailers. One of the first companies to prioritize clean ingredients in 2009, it's been recognized by a lot of conventional outlets like Allure, InStyle, Vogue, and more.
RMS uses organic and toxic-free ingredients. Their cream products come in recycled glass pots and their boxes are made from 80% post-consumer recycled fiber and manufactured using 100% wind power. Everything is non-GMO, soy-free, gluten-free (except for the volumizing mascara!), and cruelty-free.
I'm intrigued to try their line of "Un" cover-ups and powders. The idea is that it actually works with your skin to create an even and finished look without the cakiness that often comes with regular concealers and foundations.
Products: Pretty much everything
Price: $20 – $52
Kjaer Weis is one of my favorites: I get a lot of Instagram DMs from people asking me about my eye makeup. It is ALL Kjaer Weis!
Kjaer Weis was actually started by a conventional makeup artist who worked for big fashion magazines like Vogue, Marie Claire, and Elle. She found that so many of the women she worked with were irritated by synthetic makeup products, which led her to eventually start a luxury brand that's also organic and eco-conscious.
Their compacts and containers are made of a metal that unfortunately is not recyclable, but they are refillable (including the lipstick and mascara). Their products are made in Italy and all of their ingredients are either Certified Natural or Certified Organic by Italy's certifying body, the Controllo e Certificazione Prodotti Biologici.
Kjaer Weis is not vegan because they do use beeswax in a lot of their products.
Products: Lip color, eye color, foundation, highlighters, mascara
Price: $25 – $75
Axiology's lipsticks are made (mostly) from a list of ten natural ingredients, including a blend of organic oils, elderberry extract, and candelilla wax. They do carry neutrals, but this is definitely your brand if you're looking for beautiful, bold colors.
Their lipstick tubes are made from recyclable aluminum. Their packaging is made from recycled trash by a women-run cooperative in Bali, Indonesia and is both recyclable and compostable. The tubes for their lip crayons are not recyclable though, so maybe go with the lipstick instead!
Everything is certified vegan and cruelty-free and is completely free of palm oil, gluten, soy, and synthetic fragrances.
Products: Lip color
Price: $30
Elate is a pretty popular brand among the zero waste and eco-conscious community, and for good reason. They carry a wide range of products, offer refills, have great transparency, and their products tend to be a bit more affordable compared to some other brands.
The company ethos stands on 5 Conscious Beauty Principles: impact, ethics, community, future, and mission. They report that their operations are currently around 75% waste-free and are actively working to increase that number. They do use some recyclable plastic, but try to stick to more sustainable and easily recyclable materials like aluminum, glass, bamboo, and seed paper!
Elate also embraces the idea of creating a capsule beauty bag. Inspired by capsule wardrobes, the idea is that you don't have to have a vanity filled with hundreds of makeup products, but instead, less is more. Their quick, 3-question quiz will give you recommendations for which products to include in your capsule.
Everything is 100% vegan and cruelty-free as well as gluten-free. Plus, they give back a portion of their profits to social and environmental non-profit organizations.
Products: Pretty much everything
Price: $4 – $42
ILIA does use plastic for many of their products, but I'm including them on this list because of their take-back program. The brand is committed to reducing their impact by recycling the hard-to-recycle. Customers can mail in up to five empty beauty products per month (even if they're from another brand!) and they will recycle them through TerraCycle. This is a great option if you're still in the process of transitioning to a zero waste lifestyle and have a lot of more conventional products sitting around!
They use clean ingredients as much as possible and all of their products are free from things like sulfates, parabens, gluten, and talc. Everything is cruelty-free, but some of their products are not vegan.
Products: Pretty much everything
Price: $26 – $54
Bésame has a glamorous 1900's feel because it was actually started by a cosmetics historian! It's so authentic—they actually gather vintage makeup from estate sales, auctions, and antique stores to recreate the colors and textures to exactly match the originals (but using more modern, safe ingredients).
I haven't actually used their cake mascara and it looks like it might require a small learning curve, but I've heard really good things! It comes in a small tin can which you can get refilled.
Everything is 100% cruelty free and does not contain gluten, parabens, or mineral oils. It's mostly vegan, with the exception of a few products that contain beeswax. Bésame is woman-owned and operated, and everything is made locally in California.
Products: Lip color, eye color, mascara, and face powders
Price: $20 – $30
Sappho New Paradigm started with a focus on luxury, vegan and organic cosmetics that are free of known carcinogens and endocrine disruptors. Everything is produced and formulated with ECOCERT certified ingredients in a zero carbon footprint facility in Canada.
Sappho does use plastic in some of their products, but they do have replaceable powders for their foundations, blushes, and eyeshadows. They also report that they're in the process of developing new packaging that includes more eco-friendly materials like glass.
Products: Pretty much everything
Price: $20 – $54
This is the world's FIRST zero waste mascara! Izzy mascara comes with no outer packaging, and is even shipped in reusable mailers made from upcycled materials.
The container is made from medical-grade stainless steel that's designed to be cleaned and refilled over 10,000 times, so you never have to throw away another mascara for the rest of your life.
Compared to the industry standard, their mascara has a 78% smaller carbon footprint after only 25 refills! Izzy is set up where you can get a great discount for subscribing. It's $39 for a one-time purchase plus $19 for quarterly refills (Eco Hero), and $85 flat for the annual membership (Eco Icon).
Products: Mascara
Price: $19-$35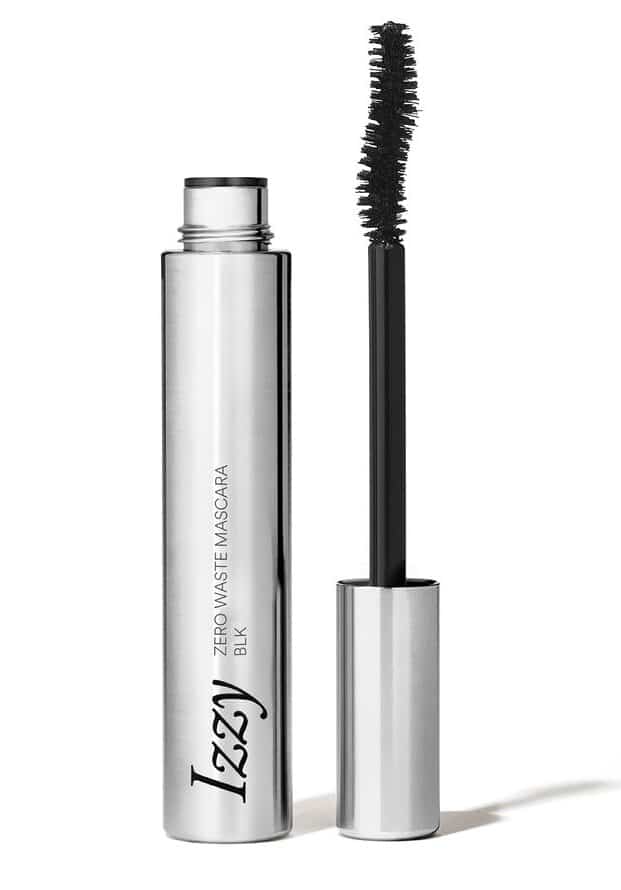 I LOVE Tata Harper—I actually wore their Lip and Cheek on my wedding day! They mostly carry skincare, but they do have a few cosmetic products as well.
Everything is formulated, manufactured, and packaged by hand on their farm in Vermont. The majority of their packaging is glass, which means it's easily recyclable or reusable. The plastic resin that is used for their bottles is made from renewable sugar cane rather than petroleum. Their outer packaging is made from cardboard and paper that's either SFI (Sustainable Forestry Initiative) certified and/or made from post-consumer recycled waste and soy-based inks. Their ingredients are and are certified ECOCERT, vegan, and cruelty-free.
Products: Lip and cheek color
Price: $32 – $42
This is a great option if you're looking for something more affordable. Available on Etsy, everything is made by hand in Ohio and ships plastic-free.
Keeping It Natural's ingredient list is super short and everything is cruelty-free, fragrance-free, vegan and gluten-free.
Products: Mascara, lip color, and cheek color
Price: $12 – $19
Another great Etsy shop to try out, Clean Faced Cosmetics are made by hand in Michigan. The shop owner appears to be very accessible—she's willing to make a custom shade for you or omit ingredients you may be sensitive to. You can order refills and even send back your containers to be reused.
Everything is vegan and mostly organic!
Products: Pretty much everything
Price: $10 – $48
Alima Pure is not completely plastic-free, but they do offer refillable compacts built to hold magnetic pans that can easily be swapped out. Their products are also free of all of the bad stuff like parabens, petroleum, and talc.
Alima Pure is a B Corp as well as a member of 1% For the Planet. Plus, for the last 10 years, the brand has been offsetting 100% of their carbon emissions through Carbonfund.org and manufacturing their products using energy-efficient processes including wind-powered electricity.
Products: Pretty much everything
Price: $14 – $46
Fat and the Moon has gained somewhat of a cult following over the years, and I can see why. Created by an herbalist, these products are made using age-old ingredients and recipes that have been passed down from various healing traditions for a really long time.
All of Fat and the Moon's products come in reusable, recyclable containers and they do their best to reduce packaging everywhere possible. All of the ingredients are non-toxic and cruelty-free, but they do use beeswax in many of their products.
Products: Lip, eye, and cheek color
Price: $18 – $24
Zao's packaging, as well as some of their ingredients, are made from controlled harvested bamboo. They have a refill system as well.
Their products are ECOCERT certified and they source their ingredients from organic farms. Everything is toxic-free, cruelty-free, gluten-free and vegan. Plus, at their factory in France, employ individuals with disabilities.
Products: Pretty much everything
Price: $15 – $44
Those are my top 10 zero waste makeup brands! To learn more about the products I use every day check out my Low Waste Makeup Capsule Collection.
Which ones would you add to the list?
If you liked this blog post check out: