Bath Towels: The Most Sustainable and Luxurious Cotton Towels
December 9, 2021 | Guest Post
Last Updated on December 9, 2021
After a super stressful day, I used to draw a nice warm bath, set out some super plush bath towels, do a face mask, light a candle and try to relax.
In fact, taking a long hot bath used to be my go-to relaxation habit. I'm a little embarrassed to admit I used to take one almost every night, but after learning more about sustainability and conserving water, I saved it for special occasions.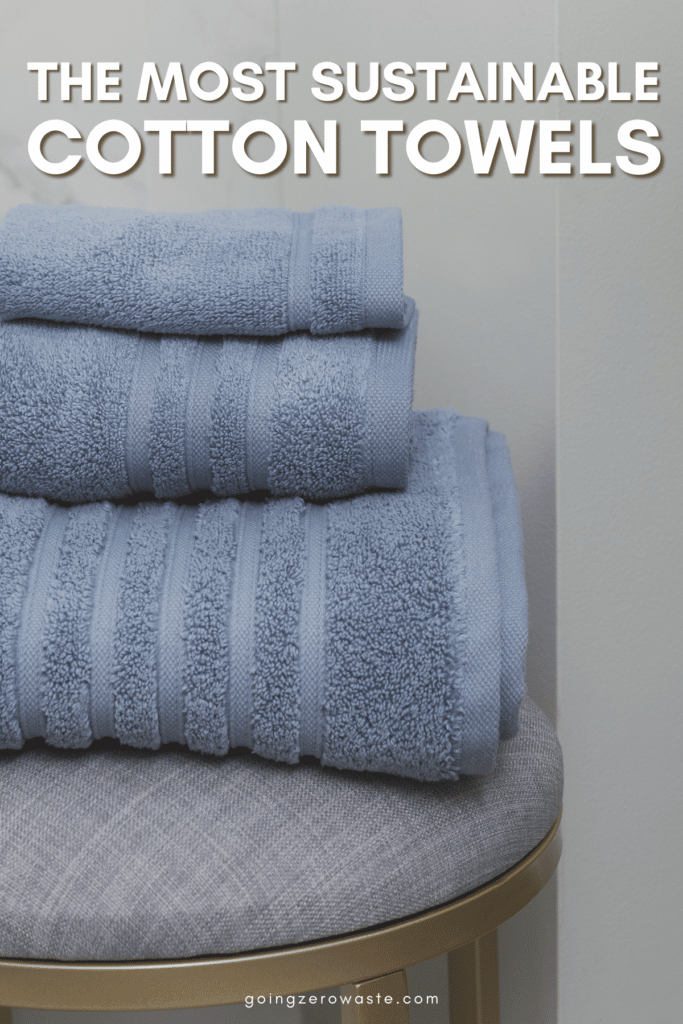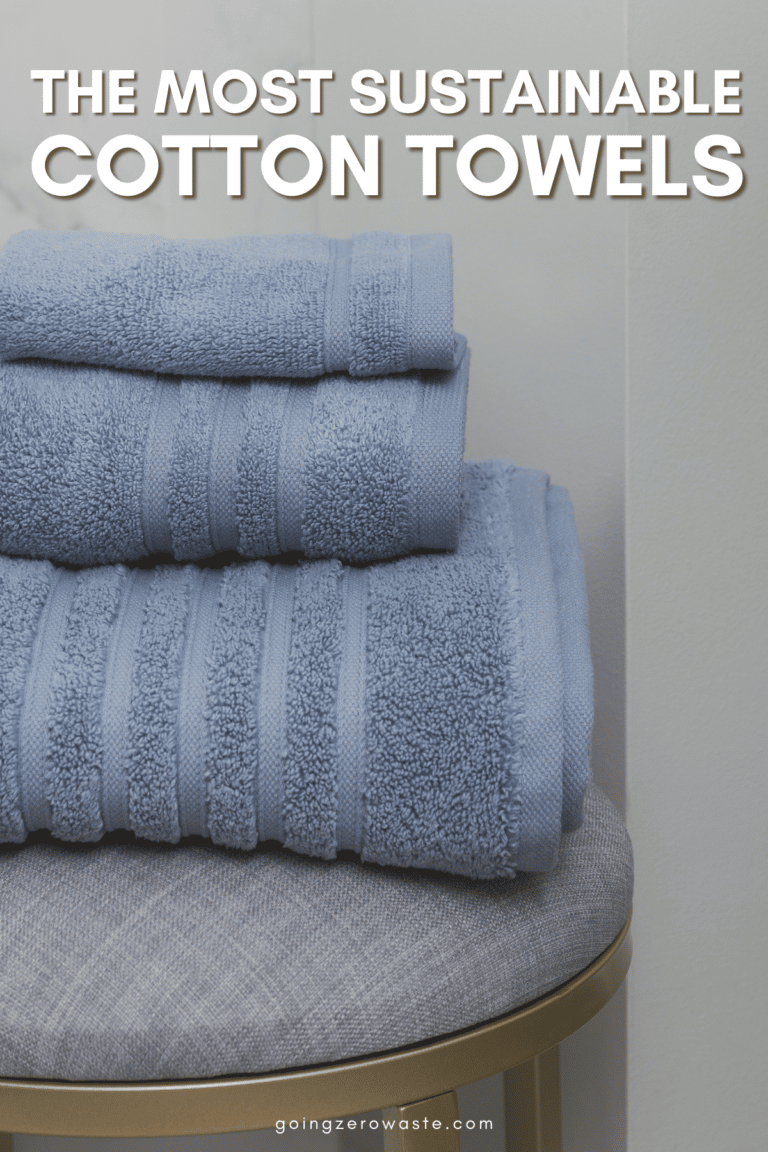 This post was sponsored by Micro Cotton; all thoughts and opinions are my own. For more information, please see my disclosure policy.
The bathroom is one of the largest sources of water consumption in our homes. In the U.S. we use almost 100 gallons of water a day, and the bathroom uses a fifth of a household's total energy just to heat water!
But, what's even more shocking is that's not even half of it. Water use extends so much farther than just what we use individually. But, virtual water, the water that's used to create things like cotton bath towels is incredibly high.
how much water does cotton use?
Cotton is an incredibly thirsty plant, and approximately half of all textiles are made with cotton. According to WWF, it takes more than 20,000 liters (5,283 gallons) of water to produce just one kilogram (2.2 pounds) of cotton, which roughly equals ONE cotton bath towel.
Now I know what you're thinking – water is a renewable resource – so why does it matter? And, well, let me tell you. Seventy one percent of the Earth's surface is covered in water, but only three percent of that is fresh water. Of that three percent , most of it is locked under the Earth's surface in soil, ice, and the atmosphere.
This leaves us with only .007 percent of the water. Yep, only .007 percent of the water on our planet is available to fuel and feed its 6.8 billion people. (source) As our population rates climb and our water is continually being polluted, we have less water to spread out among us.
Average daily indoor water use in the US is around 60 gallons per person per day, but our virtual water use, in other words, how much water goes into the food we eat, the clothes we wear, and the products we use every day – like bath towels – is in the thousands of gallons. Check out the Water Footprint Calculator to learn more about virtual water.
A few of the best ways to reduce your virtual water footprint is through eating a plant based diet, driving and flying less, shopping secondhand and buying products made from recycled materials.
what makes bath towels sustainable?
When I'm looking for a sustainable bath towel, I'm not only looking at virtual water, I'm also looking at the WHOLE supply chain from start to finish. I'm looking at the materials, the production, longevity, and the end of life.
After looking at a lot of bath towels, I think Micro Cotton has come out on top. You can find them online or in-store at Macy's, Dillard's and Target.
materials:
Micro Cotton is currently using a 360-degree approach. This means they're sourcing recycled, organic, and BCI certified cotton.
I love companies that are using recycled materials because it significantly reduces the amount of resources that go into creating a product. Micro Cotton uses over 3,000,000 pounds of recycled cotton every year, which saves a total of 1,240 liters of water during towel processing and production.
Organic cotton uses much less water than its conventional counterpart. BCI stands for the Better Cotton Initiative (BCI), which focuses on cotton grown to reduce the environmental footprint of cotton farming like limiting water usage, chemical fertilizers and pesticides.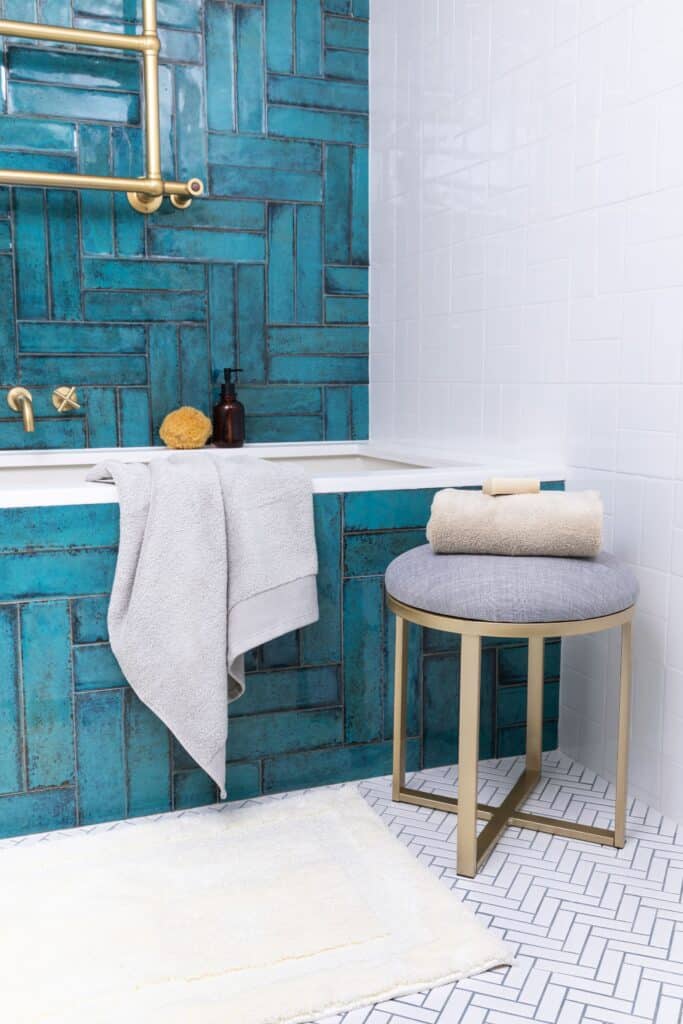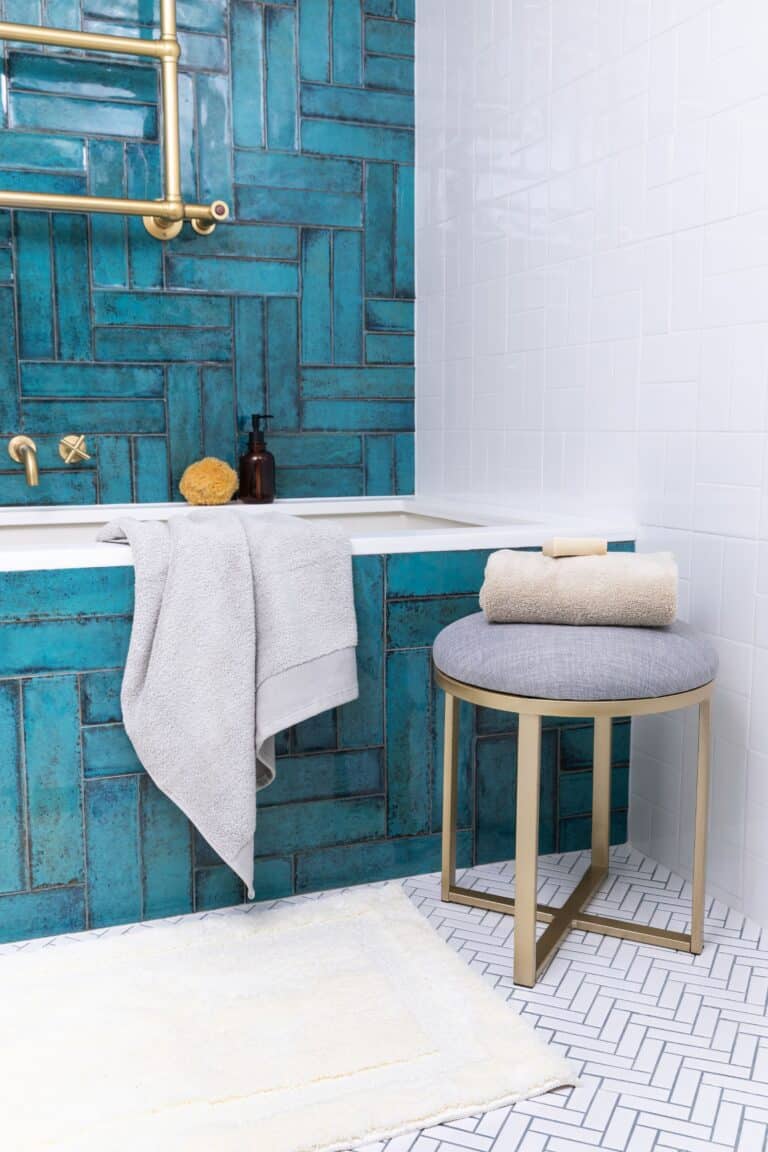 production:
Micro Cotton's bath towels are OEKO-TEX® MADE IN GREEN certified, which guarantees the towels are made using non-harmful substances and sustainable processes under environmentally friendly and socially responsible working conditions.
They use solar and wind to power over 90 percent of energy in its facility, and they utilize their own waste management system to recover and reuse 98.5 percent of water during the towel production process!
This means that less than one liter of fresh water is used for each Micro Cotton bath towel. They can make 89 bath towels with the amount of water it takes a conventional towel manufacturer to create one towel! THAT'S HUGE!
longevity:
Micro Cotton has been crafting bath towels since 1932. Buying quality, meant to last is a great way to reduce your overall footprint. To me, this is a great sign of reliability and craftsmanship.
end of life:
All Micro Cotton towels are biodegradable and made from natural materials so they can be returned to the Earth through composting at the end of their life cycle. But, before they get there, you can cut them up into smaller rags for cleaning or make your own reusable makeup remover pads!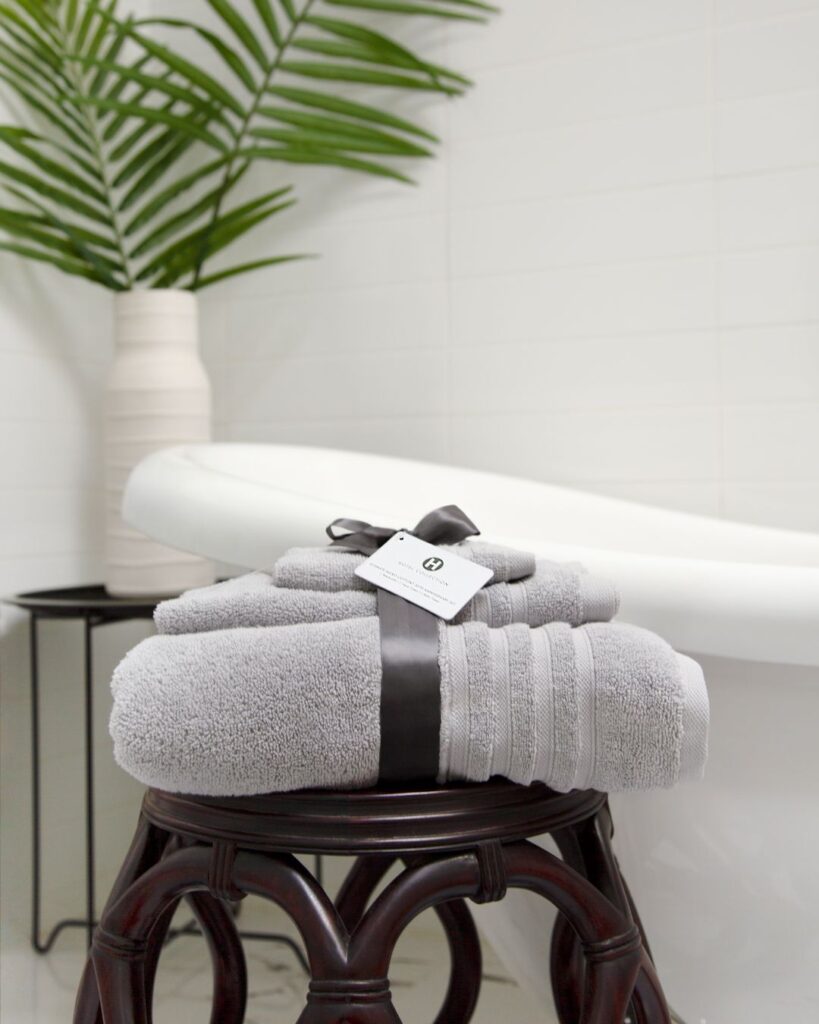 FAQ:
how often should bath towels be replaced?
Good bath towels don't need to be replaced often. Some experts say that you should replace your towels every two years, but that's bananas. Good, quality bath towels should last you much longer. Use a good detergent (not homemade – it's really bad for your textiles!) don't over wash them, hang them to dry, and they should last you for years to come.
how often should they be washed
You should wash your bath towels every three to five uses. Make sure in between each use they're hung in a well ventilated area so they can fully dry and won't become mildewy. If you're looking for safe and sustainable detergents that actually work, here's a list of some of my favorites.
is it OK to use the same towel for a week?
You can use the same towel for a week as long as it's drying in between each use. Over showering isn't good for your skin or hair and it's not recommended to wash each day except for extreme cases of sweat and dirt. If you only have to wash your towel between three to five uses, that should be ample for a week.
how do hotels get towels so white?
Most hotels wash their sheets three times and one of those cycles often contains bleach to keep things looking super clean and white. Other ways to get your whites to pop is to use hot water, but that's not super eco-friendly. My personal recommendation is to do a hot water wash once a year, and then to use this all-natural bleach and to harness some sun power.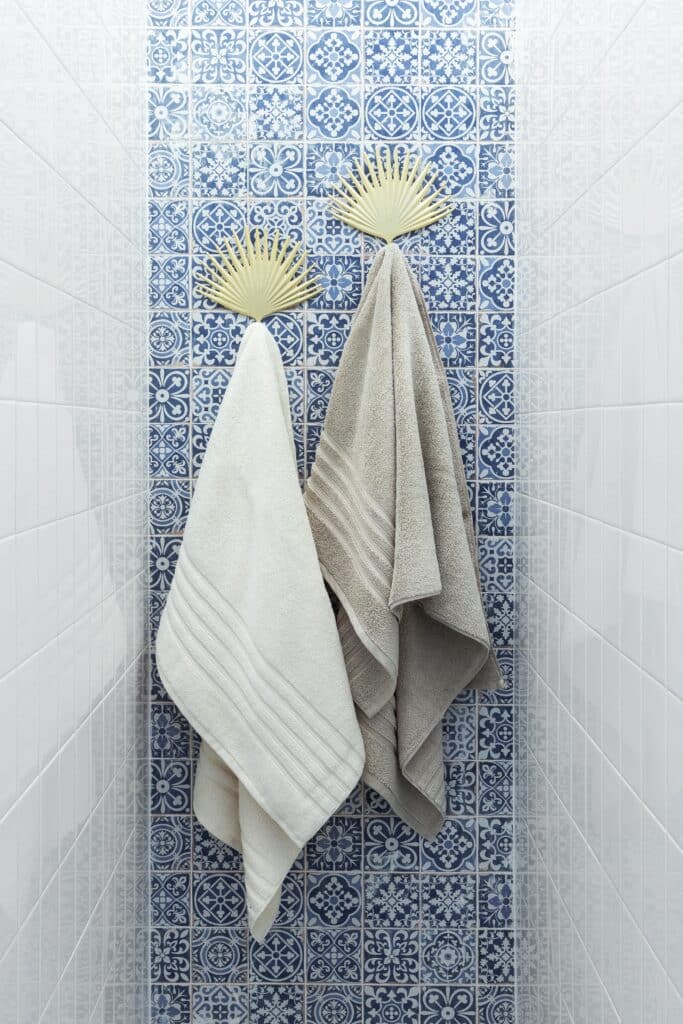 —
I want to give a thank you to Micro Cotton for sponsoring this post, if you felt inspired to reduce your water usage at home you should absolutely check out their Powder Room Pledge. It's a campaign designed to help you deepen your commitment to the environment.
For each pledge, Micro Cotton will make a donation to the Clean Water Fund while entrants receive a chance to win a sustainable bathroom makeover for $10,000. The program will run between October 4, 2021 and December 31, 2021.